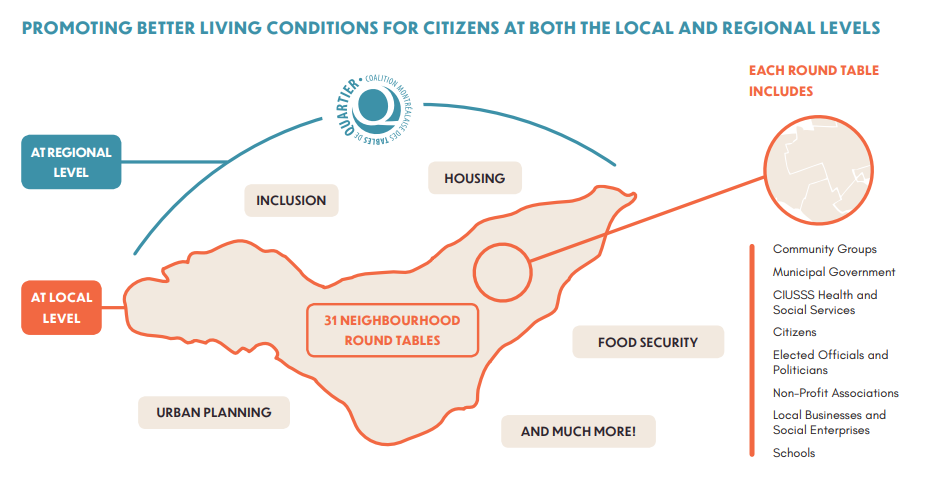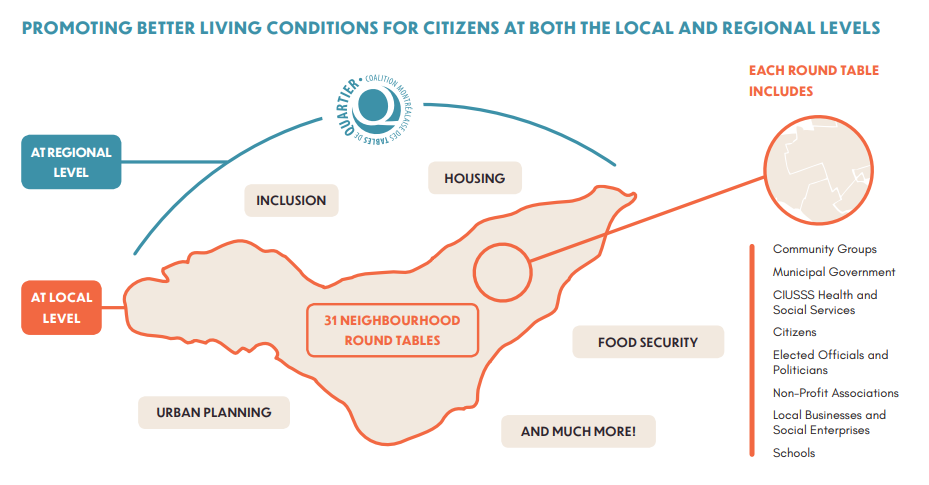 The Neighbourhood Round Tables Coalition (CMTQ in French) is the 31 Montreal's neighbourhood round tables federation. The Coalition works at the Montreal scale on common social issues in all the neighbourhood round tables.
There are 31 neighbourhood round tables in Montreal. They cover the older neighbourhoods of Montreal's dense urban core, as a well as a number of communities with more suburban characteristics. They range in size from 10 000 to 100 000 residents.
What is a neighbourhood round table?
All of the round tables are incorporated organizations.  They are the associations of partners who belong to different networks (community groups, municipal governments, schools, local health & social services, even local businesses, citizens etc.) and operate in different fields of intervention (youth, seniors, mental health, food security, etc.). Their role is to bring together and leverage the collective capacity of local stakeholders for the betterment of the neighbourhood.
Let's listen to Dany Laferrière…
Why establish a round table?
To combine strengths ;
Adopt a common vision of needs and solutions ;
Develop collective projects ;
Have a greater impact on poverty and exclusion.
What issues do the round tables tackle?
All issues that contribute to improving the social environment and living conditions: housing, food security, transportation, safety and security, access to recreation, sports and culture, employment, urban development, citizen participation.
The neighbourhood round tables act as the hubs of a network that come together to improve conditions for the residents of a community – and especially its most vulnerable residents. This last piece is always a core concern – it is central to the neighbourhood round tables mission.
How?
By mobilizing citizens ;
Identifying the social issues specific to the community ;
Finding ways to revitalize neighbourhoods, fight school dropout, facilitate the integration of the cultural communities, establish new services, etc… ;
Facilitate ongoing communication and dialogue between the partners.
The neighbourhood round tables convene and mobilize stakeholders at the neighbourhood level in order to achieve : integrated social development planning, strategic coordination of action on locally determined priorities in order to achieve collective impact and to design and manage joint projects that are part of the collective impact effort.
A partnership to support the neighbourhood round tables
They emerged locally, as a result of local stakeholders' desire to give themselves a new tool to act together to improve their neighbourhood. The Montreal Initiative for Local Social Development  is a collaborative partnership to support the neighbourhood round tables,  a recognition of the role of the round tables.  The partnership includes Centraide of Montreal, the Public Health network, the City of Montreal and the Neighbourhood Round Tables Coalition.
The Montreal Initiative for Local Social Development is a partnership to support and promote a local social development model and to provide a stable core funding to the neighbourhood round tables (currently 100 000$ per NRT for a 3 million investment per year).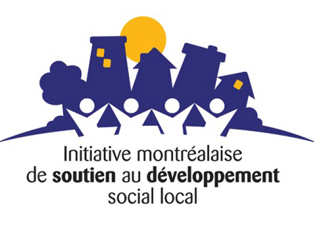 Also read this article.